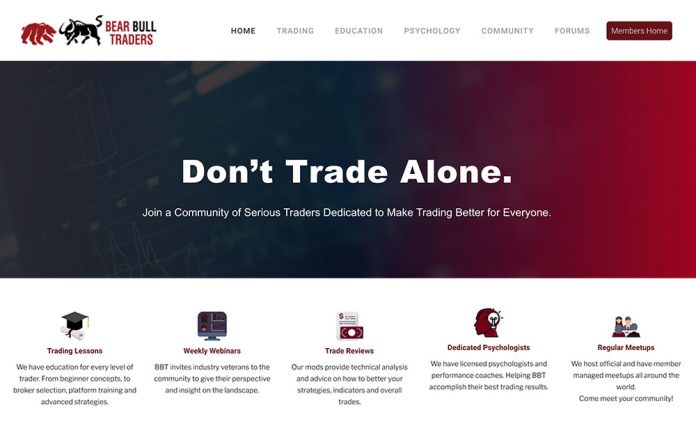 In its most basic sense, Bear Bull Traders can be thought of as an online chatroom and stock-related instructional service that provides investors with a comprehensive educational suite that comes replete with a number of highly specific learning tools (such as webinars, online classes) through which one can better understand many of the technicalities associated with the domain of stock trading.
A Closer Look at Bear Bull Traders
One of the core offerings of this product is the Bear Bull Traders Chatroom, which as the name suggests, is a platform through which Carlos Moreta and Norm Grunsfeld — two of the main individuals behind Bear Bull Traders — are able to provide their market commentary, insights, trade signals and other relevant data to their clients.
From an operational standpoint, we can see that through this chatroom service, both Carlos and Norm are able to share their screens with their clients and thus able to provide them with their commentaries on each stock option that they are analyzing. Additionally, all of the investment avenues that are looked at by them are dissected in great detail using factors such as pre-market volume, core chart indicators, etc.
With that being said, Carlos and Norm are mainly concerned with the pre-market topics because after their work is done, Brian Penzam takes over and starts discussing his personal points of view regarding all of the investments that have been looked at thus far by Carlos.
What is Bear Bull Traders Alerts?
As the name suggests, Bear Bull Traders Alerts is a module through which the company is able to dole out buy/sell signals in relation to a number of stock options in a highly simple, routine manner. Also, it is worth pointing out that most of the aforementioned alerts are doled out in real-ime, thus it is best for new users to log in to the system so as to hear the thought process of the various experts before they invest big in any particular offering.
However, a number of people who claim to have made use of this service have stated that the individuals dishing out these 'alerts' — such as Andrew 'Amin' Aziz and Thor Young — are mostly technical day traders and thus are quite limited in their approach and overall scope of knowledge. In this regard, some individuals have also pointed out that Aziz and Young tend to rely mostly on a few key indicators (such as pennants, VWAP, moving averages, volume, resistance and support) to make all of their predictions.
What Else is on Offer Here?
(i) BearBullTraders Education: This education suite provides users with an extensive library of data and technical insights in regard to a number of things related to the investor market. For example, as part of this suite, there are a number of video tutorials that are designed to help people become better day traders. Not only that, there is a host of other material available as well that can help budding investors with things like:
Understanding technical concepts such as support lines and resistance.
Placing various kinds of orders as well as managing risks.
Evaluating trading posting sizes and learning about the psychological aspects of trading.
Making sense of short squeeze and reversal patterns.
If that wasn't enough, as part of the Bear Bull Traders Education module, users are also provided with streamlined access to a number of webinars and classes on a regular basis.
(ii) Bear Bull Traders YouTube: As the name quite clearly implies, this offering provides users with a number of highly detailed videos regarding investment, day trading, etc. In this regard, it is worth pointing out that Bear Bull Trader's online view library is quite extensive and contains material related to almost everything that one may wish to learn about investments.
With that being said, the fact that this Youtube service is for paid members only, it needs mentioning that there are a number of other quality channels online that are doling out similar material online for free.
Pricing and Availability
A quick look at the official company website shows us that the cost of signing up for Bear Bull Traders is around $99 a month if you pay for an annual subscription. However, there are other deals available as well. For example, twelve payments of $199 each allow users to gain lifetime access to the platform. Similarly, a one-time payment of $1999 also qualifies potential clients for the same benefits.
Payments can be made using a whole host of safe and secure avenues such as PayPal, Mastercard, Visa, AMEX, etc. Not only that, all of the above-stated offers come with a 14-day money refund guarantee in case users are not happy with the advice that they are being given.