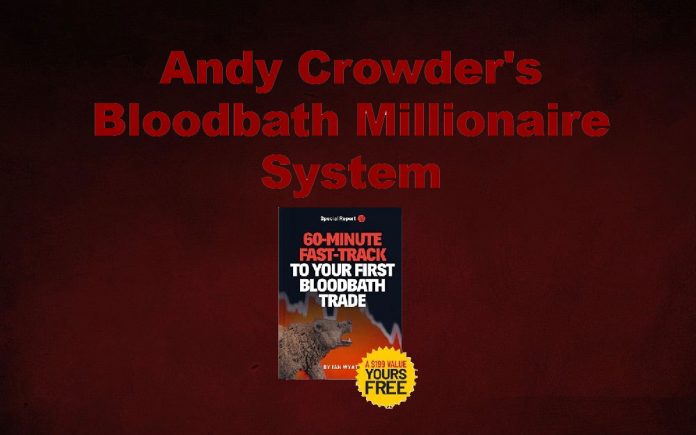 As the coronavirus continues to take control over all markets, investors are likely to wonder what the future holds. Turns out, there's no right time like now to make gains. According to Andy Crowder, one can easily make $1,618 before 4PM today. How? In order to gain access to the how-to's, one will have to become a member of Crowder's Options Advantage.
What is the Options Advantage?
As the name implies, Options Advantage, a Wyatt Investment Research product, is described as a unique income-generating options strategy designed to guide new options traders. The end goals are to ensure that solid returns are made at consistent win rates and with minimal risk.
Created by editor, Andy Crowder, he is known for emphasizing heavily on options and has been doing so for nearly 15 years now. In late 2011, he brought a 16% yield for subscribers (which he allegedly was consistent in producing until today) and this was supposedly during a time where the S&P 500 was relatively low.
Who is Andy Crowder?
Crowder's interest in options trading first stemmed when he was an MBA student. In his viewpoint, stocks have a 50/50 chance of success, while options allowed him to create statistical success rates of over 50%. As for his career, he started at Wall Street's Oppenheimer & Co. and today, he teaches everything he's learned with active investors.
Andy Crowder's approach in options trading rests heavily on being patient. In a previous interview [1] he shared that he normally waits for short-term, high probability setups to enter the market. One of the key factors that the Options Advantage is founded on is capital preservation – i.e. disciplined, risk management approach.
While most investors fear market volatility, Crowder supposedly appreciates it. He was referenced sharing:
"When I started trading options, the first thing I was taught was to buy low and sell high. This goes for absolutely everything – including volatility […] Increased volatility […] means that I can sell options premium for greater prices."
What will I receive by being a member of the Options Advantage?
The perks of becoming an Options Advantage member implies that investors have access to:
Report #1: 60-Minute Fast Track to Your First Bloodbath Millionaire Trade: This report covers a list of brokers that are compatible with the strategies suggested. Step-by-step instructions are what makes trading with Crowder easy.
Report #2: The Bloodbath Trade Trinity: Three set-ups are elaborated in this report, which include "Bull Put", "Bear Call" and "Iron Condor." Information on how they work and the best way to set them up will be listed as well.
Weekly Bloodbath Trade Alerts: Alerts will be delivered through emails. This will entail 90% probability trades with step-by-step instructions. As put by Crowder, each execution should take as little as 5 minutes.
52 Weekly Issues of Bloodbath Millionaire: Each issue is said to be supported by in-depth studies on all his trades, timely market analysis and expert insight from an unnamed, former Wall Street trader.
Monthly Members-only Webinar Trainings: Members will have access to all past webinars and live 'Monthly Strategy Sessions', educational videos and a closer look at Crowder's strategies, setup trades, chart reading, etc.
One-on-One Mentoring from Crowder: Mentorship opportunies are rare in financial newsletters. In this case, members will be provided with Crowder's personal email where all questions can be asked. Additionally, members can schedule calls for personal help.
Bloodbath Millionaire Video Series
Five Special Reports:
Bloodbath Trader Reveals Secret for Turning $5K into $35,732
The New FANG Portfolio
My TOP Options Secrets REVEALED
Using ETF Options for Wealth Protection and Portfolio Growth
The Vital Rule for Every Options Trade
Frequently Asked Questions (FAQs)
How do I get in touch with customer service?
Customer service will be available Monday to Friday between 9AM and 5PM ET. The best way to reach them is by calling 1 (866) 447-8625 or emailing them at: customerservice@wyattresearch.com.
Is there a return policy in place?
If investors are dissatisfied with the Options Advantage service, one can apply the balance of the subscription as a credit towards any other Wyatt Investment Research products at any time. The reason for not offering cash refunds is supposedly to respect existing clients.
Do I have to manually enrol once my subscription is up?
No, each subscription will automatically review after the initial subscription term is up. This will continue until one decides to stop entirely.
How much does the Options Advantage membership cost?
Everything offered above typically costs $5,990, but for a limited time offer, Crowder wants to offer the premium plan where three years of the Options Advantage costs $1,495. Those who would prefer the standard, one-year plan, it will cost $995. Either offer will halt the moment 50 members have joined.
Final Verdict
Based on the analysis above, becoming a member of the Options Advantage implies that each individual will become fully aware of how options trading works. Not only does Crowder provide educational tools in the form of videos and reports, but he also seems to offer mentoring, which is rare in financial newsletter services. Furthermore, Crowder's emphasis on waiting for the right moment shows that he's not into pumps and dumps, but instead will make moves according to extensive research.
According to existing and/or former members of this service [2], the win-rate is roughly 79% with a ROE of 6% on average. That said, many felt that of his 3 set-ups, two of them, primarily, the Iron Condors and Bear Calls, were not appropriate when the markets were trending upwards. Others felt his alerts should have come much earlier than they did, especially when the market is volatile, as most investors missed out on the opportunity. In general, it seems like the Options Advantage had a mix of good and bad years.
On that note, investors have been generally advised to do additional research. This is especially crucial, considering the fact that the service is non-refundable and the only option investors have if they are dissatisfied is to switch to a different service.
To learn more about Andrew Crowder's Options Advantage, click here.