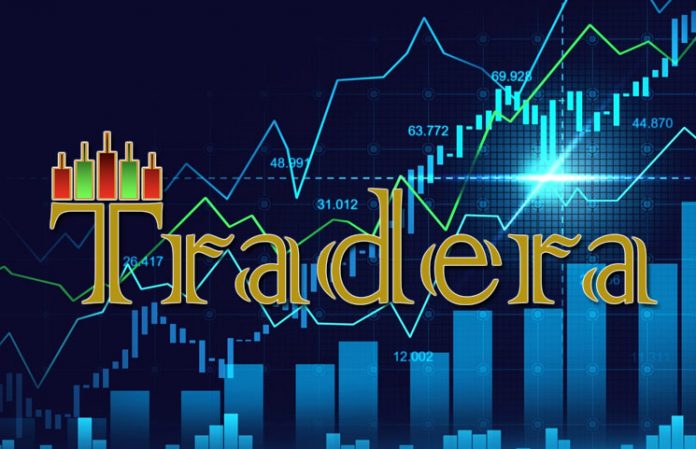 Tradera is a forex MLM company that offers a variety of financial services that include trading cryptocurrency and obtaining market forecasts.
The company offers several services to clients, including online training programs, trade alert subscriptions, live trading webinars, and more.
Clients can access all of these services by signing up for Tradera today at Tradera.org.
Is Tradera legit? Is Tradera a multilevel marketing scam? Should you sign up for Tradera? Find out everything you need to know about Tradera today in our review.
What is Tradera?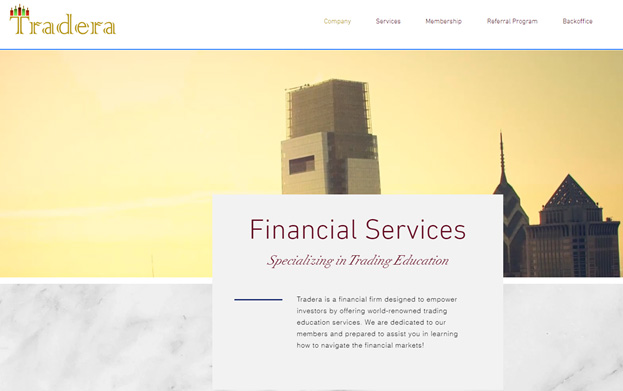 Tradera is a financial services company found online at Tradera.org. The company offers a trading academy, trade alerts, live trading sessions, market forecasts, and more.
At least, that's what Tradera appears to be when you visit the official website. If you peek behind the curtain, you'll discover Tradera is a multilevel marketing company launched in December 2019. You pay a monthly fee to join the company, then encourage other people to sign up and pay the fee.
Here's how Tradera officially describes itself:
"Tradera is a financial firm designed to empower investors by offering world-renowned trading education services. We are dedicated to our members and prepared to assist you in learning how to navigate the financial markets!"
With that goal in mind, Tradera offers online training programs, live trading sessions, and more. You must pay to join the company, and then you'll get access to all of these services.
Tradera is based in Dallas, Texas. The company was founded by two 24-year old forex traders in December 2019.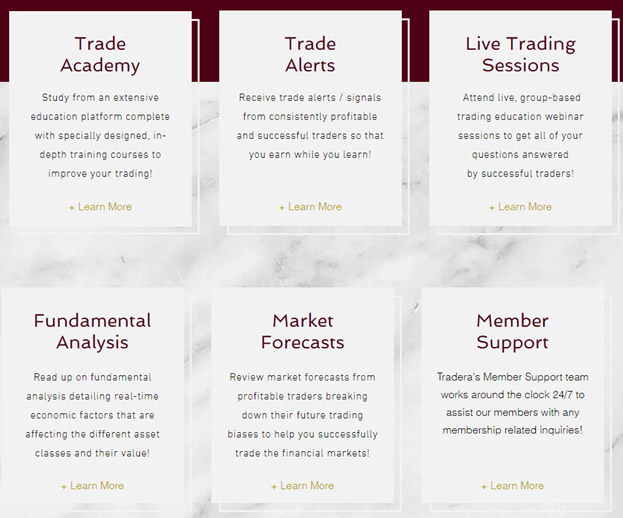 Tradera Products & Services
Tradera is a MLM company that seems to focus mostly on membership fees instead of investment advice, products, or services. Officially, however, Tradera offers all of the following products and services:
Trade Academy
Tradera's trade Academy claims to teach clients how to analyze and trade financial markets. The program is ideal for beginner traders getting started for the first time. You can walk through a series of videos, then test your knowledge with quizzes and homework assignments. The videos feature hands-on trading explanations. There's also written education material, infographics, and more.
The Trade Academy currently has three sections, including forex, cryptocurrency, and technical analysis. Tradera is launching sections on commodities, indices, and stocks in the near future.
Trade Alerts
Tradera clients get access to trade alerts. Tradera's experienced traders will send a notification when to buy or sell an asset. You'll discover at which price to take a profit, for example, and what position to take (buy or sell).
Each Tradera trade alert describes the asset, position, take profit point, stop loss point, entry price, and additional notes.
Tradera also publishes its full trade alert history online. You can scroll through previous alerts to see how the predictions came true, for example. By following Tradera's investment advice, you can purportedly earn steady profit (although Tradera claims its trade alerts are simply "shared trade ideas" and not investment advice, nor do they make any claims about profit).
Trading Sessions
Tradera offers live trading sessions. You can view a live trading session and see the moves an experienced trader makes. Sessions are hosted Sunday through Thursday at 8pm EST and run for 1-2 hours.
Tradera describes its trading sessions as "group-based webinar sessions" that revolve around discussing live markets, potential trading opportunities, trading conditions, and more. Tradera claims you don't need any trading skills or experience to attend the live trading sessions. They encourage beginners to ask questions, while more experienced traders can share their advice
Investment Analysis
Tradera claims to build its investment analysis on three pillars, including technical analysis, sentimental analysis, and fundamental analysis. Based on these three pillars, Tradera will provide live investment analysis to clients via the back office, including analysis of specific currencies, cryptocurrencies, commodities, indices, and stocks.
Market Forecasts
Tradera's investment analysis focuses on specific assets, while its market forecasts analyze overall market trends. The company forecasts the future of the market, then explains its analysis via writing or graphs. These forecasts come from the founders of the company. Market forecasts can cover commodity markets, indices, stocks, currencies, cryptocurrencies, and more.
Tradera MLM Opportunity
Tradera is a multilevel marketing company. You must pay a fee to join the company. Then, you recruit others, convincing them to pay the membership fee. Each membership fee gets passed up the pyramid. You get a certain percentage of each fee, while most of the fee gets funneled to the upper levels of the pyramid.
To join Tradera, you must pay a $15 membership fee every 28 days. After paying this fee, you become an Independent Business Owner (IBO).
You can also pay a higher fee to increase your potential to earn money. Premium membership is priced at $99 to $114 every 28 days.
To earn money with Tradera, you must personally refer at least 3 people underneath you. Any referrals are placed in one of 3 legs underneath you.
As you refer more people to Tradera, you'll progress up the ranks. Each member needs to have at least 55% of downline members enrolled as pure retail customers.
If a member has an IBO package, that member will not count as a retail customer.
Tradera's ranks include Founder, Knight, Noble, Bishop, Duke/Duchecss, Prince/Princess, Emperor/Empress, and Legend.
The higher your rank, the more money you will earn. You can qualify for each rank by recruiting more people into each of your three legs. For the Noble rank, for example, you need 25 total team members, with a minimum of 10 members in your left leg, 10 members in your middle leg, and 5 members in your right leg.
As you progress through each rank, you earn more money from the people below you. At the Bishop rank, for example, you earn $500 per week from the 30 active members beneath you. These 75 members are paying $15 per month (or $1,125 per month total). The remaining $625 gets funneled to the top levels of the pyramid.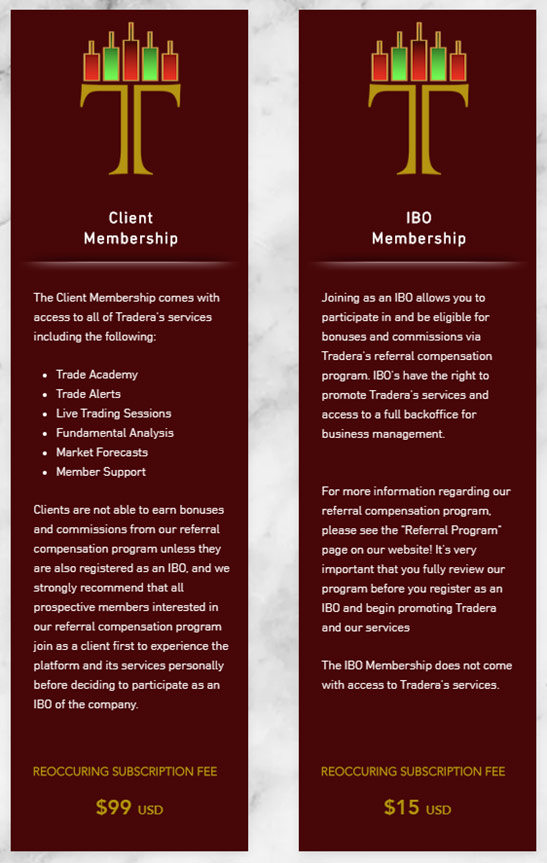 Tradera Membership Fees
Tradera has three membership fees. You must pay these membership fees to join the company, and you must continue paying the membership fees every month to stay active:
Affiliate Membership: $15 every 28 days
Customer Membership: $99 every 28 days
Premium Membership: $114 every 28 days
The Premium Membership includes both the Affiliate and Customer membership.
Tradera Refund Policy
Tradera has a three-day refund policy, but that's it. You have three days to request a refund on your initial membership fees. After that, all fees are non-refundable.
Is Tradera a Scam?
There's limited information about Tradera available online. We know the names of the two founders, and we have a mailing address for the company, but there's limited other information available online.
It's unclear if the two founders exist: when you Google Kody Sell and Eastan Harris online, all you find are search results for Tradera. There's no proof these two exist, and we have no information about any of their trading experience or education. We know they claim to be 24-year old forex traders who have been running companies since they were teenagers, although it's hard to verify any of this information.
Some have labeled Tradera a scam because of its membership system. The company asks you to pay $99 per month to access basic education materials. There's limited reason to pay this membership fee when similar information is available for free online.
Overall, Tradera emphasizes membership payments – not products or services. The goal of Tradera is to create a multilevel pyramid scheme – not to provide effective investment advice to members.
About Tradera
Tradera was created by two 24-year old forex traders, including Kody Sell (CEO) and Eastan Harris (CFO). The company is based in Dallas, Texas.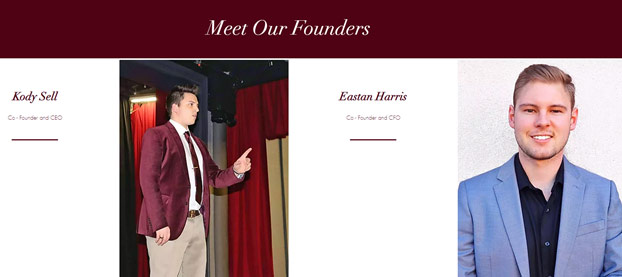 Sell and Harris claim to have started a forex company called New Investments in 2015, although there's limited information online about the company, and it no longer exists.
You can contact Tradera via the following:
Email: support@tradera.org
Phone: 1-800-968-3983
Mailing Address: 1700 Pacific Avenue, Suite 4570 PMB 1001, Dallas, TX 75201
That mailing address is a large commercial building in downtown Dallas. However, it's unclear if Tradera actually maintains an office at that location.
The company is listed on the Better Business Bureau website, although it is not BBB accredited.
Final Word
Tradera is a multilevel marketing company built around forex trading. You must pay a membership fee every 28 days to remain active in the company. You can recruit other people below you to progress through the ranks. You receive a portion of the membership fee from anyone you recruit, while most of the membership fee gets passed to upper levels of the pyramid.
There's limited information online about Tradera's trader education, trade alerts, or live trading webinars. As with most multilevel marketing companies, the focus seems to be more on membership fees than in offering high-quality products and services.
To learn more about Tradera, visit the company online today at Tradera.org.